thumb|left|link=Tommy Foolery is the theirteenth episode of "All Grown Up!" from Season 1.
The kids prank Dil into thinking aliens have contacted him and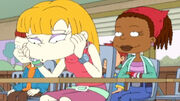 they are speaking to him through Tommy. Angelica schemes to be paired with Sean at the Spring Fling school dance.
Ad blocker interference detected!
Wikia is a free-to-use site that makes money from advertising. We have a modified experience for viewers using ad blockers

Wikia is not accessible if you've made further modifications. Remove the custom ad blocker rule(s) and the page will load as expected.